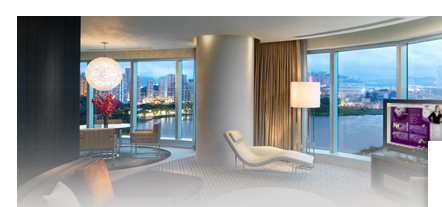 Introducing Wi-Fi dongle for Shuttle®
Experience true luxury and get the most out of your Forest Shuttle® system by adding our Wi-Fi dongle. Open or close your curtains with the touch of a button, using the brand new Forest Connect App or by third-party apps from Google, Amazon on your mobile device.

Or even better, speak directly to your curtains by using voice control with Apple Siri or Hey Google. Our Shuttle® Wi-Fi module is an add-on to new or existing Forest Shuttle® systems with S, L or M motors.





Installation as easy as 1-2-3
Connecting the Wi-Fi dongle can be done in just a few steps. Simply plug in its cable in the BUS port of the motor and click the dongle to the side of the motor. If you have a Wi-Fi connection with your smartphone or tablet, download the Forest Connect App. From now on follow the steps within the app. No further installation is required, which makes adding a Wi-Fi integration to your Forest Shuttle® system as easy as 1-2-3.

Bi-directional communication
The dongle does even more than enable you to wirelessly control your curtains. The Wi-Fi solution informs you of the exact status of your curtains, even from across the globe. The system will always inform you in which position you curtains are, thanks to its bi-directional communication.

The Wi-Fi Dongle is now available in two colours: white and black.

Article numbers:
5201002280 Forest Wi-Fi Dongle white
5201006280 Forest Wi-Fi Dongle black


Discover the new Forest Connect App

Together with the Wi-Fi dongle, we are also launching our very latest operating method: Forest Connect App. With the Forest Connect App you always have your curtain control at hand.

You can easily swipe your curtains open or close. Simply set a timer to open or close the curtains at set times. Handy when you are not at home. Or let your curtains open and close automatically with sunrise and sunset. This makes it even more burglar-proof. With the Forest Connect App you will always be in control of your curtains, wherever you are.




Easy integration into your smart home

Would you rather control your smart home via a platform such as Google Home or Amazon Alexa? The Wi-Fi dongle enables easy integration of the Forest Shuttle® motor into these smart home platforms.

But the connection with virtual voice assistants such as Apple Siri, Google Assistant and Amazon Alexa also runs smoothly with the Wi-Fi dongle. The big advantage of one smart home platform is that the Shuttle® motor can be connected to other smart devices such as smart lighting or a smart thermostat, so you can, for example, set a routine / scene to increase the atmosphere or ensure energy savings. It fits seamlessly into the trend to improve the user experience.





New export manager introduction

We would like to introduce our new colleague: Hans van Gemeren, who will strengthen our export team. Hans joined the Forest Group from October 1 and his focus will be Central, Eastern and Southern Europe and Latin America. His professional background is in international sales. He has mainly worked in large family owned companies with a variety of customers (B2B, distributors, retailers).

What do you like about Forest? Hans: "The strong customer focus and international orientation really appeal to me. There is still great potential and I am very much motivated to make customers more successful by helping them to get maximum value out of our products and service."

What do you do for fun? Hans "In the weekends I like to join my kids when they are playing soccer and I am an active trail runner. And of course -being an export manager- I love travelling!"

Email
h.vangemeren@forestgroup.com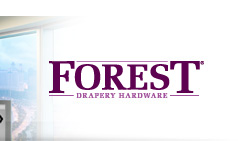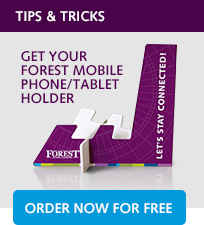 Remote advice: video calling

It is personal, good for the environment and due to corona it has become extra relevant: video calling. Unfortunately, we cannot meet in person during corona times, trade shows are canceled and our advisors cannot visit you. Do you still prefer face-to-face advice?

No problem, we are happy to give you personal advice by a videocall and explain how our products work, via tools such as Teams or directly via your smartphone.

Order your free mobile phone and tablet holder
Would you like to receive a Forest mobile phone and tablet holder for free? Press the button up here and provide your company name and address details, as well as your personal name, and we will ensure that you can video call in a practical way.

Let's stay in touch!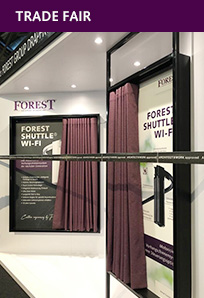 This was Architect@Work Berlin

Last month we attended for the first time since Heimtextil a tradeshow: ARCHITECT@WORK in Berlin. The concept of ARCHITECT@WORK was adapted in such a way that the exhibition floor was a corona-safe environment for everyone, without compromising on the experience.

It was good to be back and to be able to present our latest smart curtain solutions. We are looking forward to attending one more time this year at the end of November at ARCHITECT@WORK in Wiesbaden.

Visit us at our corona proof stand number 87.

Free access
Click here to pre-register online to ensure fast and free access. Use the code EV340.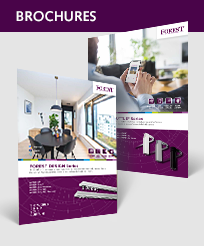 New brochures Shuttle® and Design Series

Our Shuttle® brochure has a new look. In this renewed brochure you will find our entire Shuttle program (incl. The Shuttle® iOn).

In addition, this brochure also contains information about our motorised track, FMS®.

We also have merged the design track systems (DS®, DS-XL® and DS-XL® LED) in one clear brochure: Design Series.






You can find the brochures also on our website under Downloads:
Click here