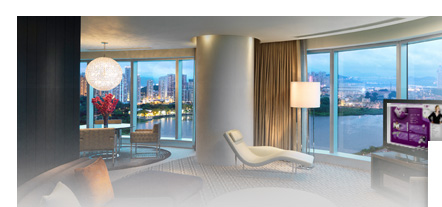 Think globally, act locally: FINCH Hotel

A new addition to our list of worldwide references is a very nice boutique hotel in our hometown of Deventer! Fully restored to its former glory, after 100 years it's back to its roots; the prime boutique hotel in town.

All rooms are super comfy equipped with modern amenities such as a Nespresso coffee machine and a power shower. The rooms are of course equipped with first-class quality curtain track systems like our hand drawn system KS®. But for those who want more luxury, opt for a room with the Forest motorized curtain system: Shuttle®. If you are heading to our headquarters, we definitely recommend you this atmospheric hotel.

For more references, visit our website.




'Seeing is selling': CRS Display

Seeing is selling. We understand that all too well. That is why we have developed a new table top display for our rod range.

This unique and stylish display shows the various combination and colour options of the Forest curtain rod systems including decorative finials, all at a glance. The compact display is a real eye-catcher for sales counters and tables, for example at trade fairs or in your showroom.

Article number: 9902000001 CRS Display Set complete


Dustproof strip for KS recess installation

Recess fitted curtain tracks are made for an invisible finish in the ceiling, but above all they must run smoothly. Paint and stucco material are therefore not good friends of a curtain track, especially when applying after the curtain tracks have been installed.

That is why we offer a flexible strip for our KS® recess track which fully seals the curtain track opening. This allows the painter or plasterer to finish the ceiling quickly and easily during the finishing phase, so the customer can enjoy, on schedule, smoothly sliding curtains. That is what we call the Forest factor!

Article number: 4518501000MTS Flexible Dust Strip


MCS

®

2/3 Channel Track Connector

Our track connector for the MCS® 2/3 track system comes with an extra steel plate to provide an extra solid connection and neat finish.

You don't need to worry that the screws will damage the other side of the profile when tightening; thanks to the metal plate you can tighten the screws as much as you want without that problem. It doesn't only sound simple, it is simple and it works amazingly effective!

Article number:
5305200006 MCS® 2/3 Glider Connector Straight Steel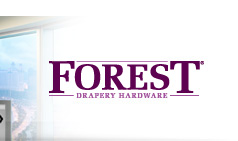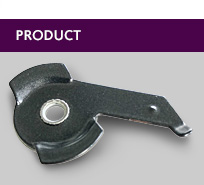 DS-XL® Swivel and wall bracket now also available in anthracite

To complement the anthracite DS-XL® rail series we now have matching ceiling swivel and wall brackets available.

Article number:
3818205230 - DS-XL® swivel anthracite
3820005018 - DS-XL® wall bracket anthracite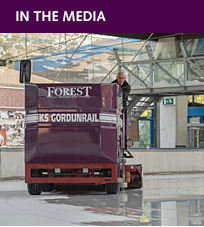 Forest on ice
When winter is coming, the Dutch love to ice skate. For many years the ice rink in Deventer glides just as smooth as our curtain tracks due to the Forest ice resurfacer. Photo: Rens Hulman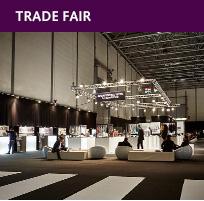 Architect@Work Düsseldorf
On the 4th and the 5th of December Architect@Work will take place in Düsseldorf. We will attend with our new motorized DS-XL® LED system. Visit us at our stand number 35.

Free access
Contact us to get your invitation code and pre-register online to ensure fast and free access.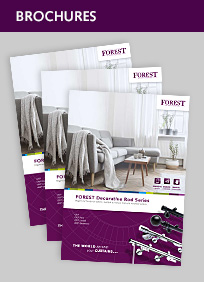 Check out our shiny new rod brochure

All product information of our rod systems are now combined in one brand new brochure. This redesigned brochure gives an overview of our entire range of rod systems. So if you are looking for more information about our CRS®, CRS® Corded, the Deco Rod system with rings, or the Motorized Rod System (MRS®) check out our shiny new brochure. You can find the brochure also on our website under Downloads.






HiDesign Asia
Shangri-La Hotel,
Bangkok, Thailand
October 30th - November 1st 2019
weblink




Architect@Work
Messe Düsseldorf, Düsseldorf,
Germany
December 4-5 2019
weblink




Heimtextil
Messe Frankfurt,
Frankfurt am Main, Germany January 7-10 2020
weblink